Samsung adds a new category of products to its catalog. With the Smart Monitor, he intends to combine functions related to the world of the PC and that of television. There is plenty to be won over.
Samsung's Smart Monitor is quite a difficult product to categorize. The prefix Smart is a carry over from the category Smart TV – smart TVs, i.e. connected – while the suffix Monitor is the simple translation of monitor – i.e. a PC screen. The Smart Monitor would therefore be an intelligent PC screen. The Korean firm does not sell it otherwise: its product combines the world of the office with that of the living room, with a hybrid approach compiling productivity and entertainment features. Samsung hopes to have designed a versatile screen, able to find its place in an era where teleworking is privileged.
If we wanted to simplify to the extreme, it looks like the Smart Monitor is a PC screen with the same operating system as the televisions marketed by Samsung. It looks like a monitor, decked out with a remote control to navigate the interface giving access to a host of applications. The problem with these versatile products? Their unfortunate tendency to offer a lot, but not excel at anything. The Smart Monitor, available in Full HD or 4K versions, does not avoid this pitfall. But its very attractive price list – 249, 299 or 399 euros – makes it a very interesting quality / price ratio.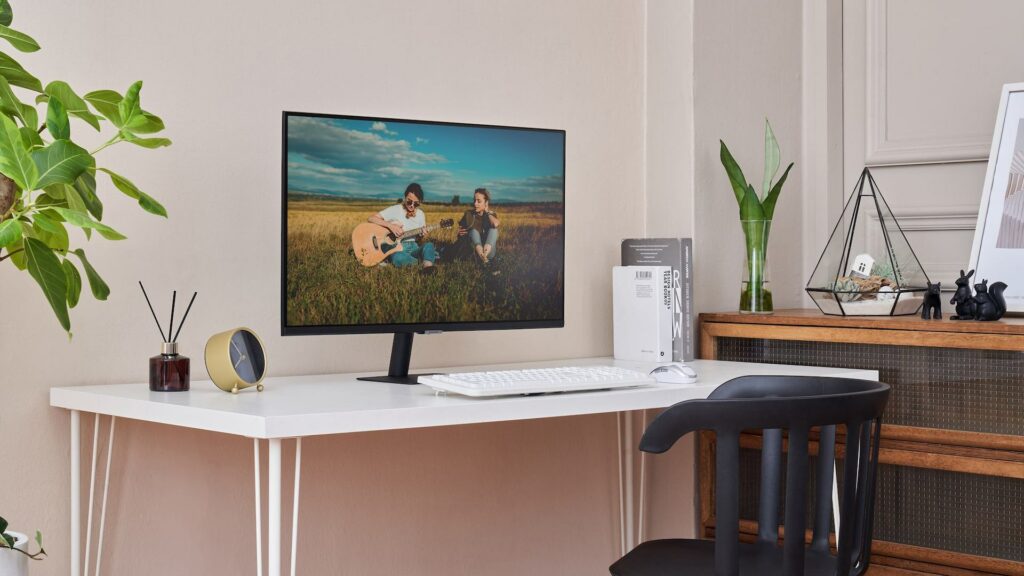 Desktop TV
The design of the Smart Monitor does not predestine it for installation in a living room, where it would appear far too small to satisfy the eyes (it comes in 27 or 32 inches). On this point, it really looks like a PC screen: thin edges and a compact central foot (less than 20 centimeters) so as not to take up too much space on a desk. The remote control is part of this trend: slender, it is equipped with a microphone to promote voice commands and features a few shortcuts to SVOD platforms (Netflix and Amazon Prime Video in this case).
Samsung's ecosystem allows the Smart Monitor to offer several ways to be entertained, as long as it is connected to the internet (via Wi-Fi). On this point, he takes advantage of this heritage born in the field of consumer television and will not need to be connected to a TV box or a PC to broadcast the series, for example. WandaVision, accessible on Disney +. The Smart Monitor allows you to concentrate everything in one place and can meet a practical need, if you do not have the space to install a TV and a PC monitor at home. As he said in the presentation, Samsung wants to avoid duplication of devices.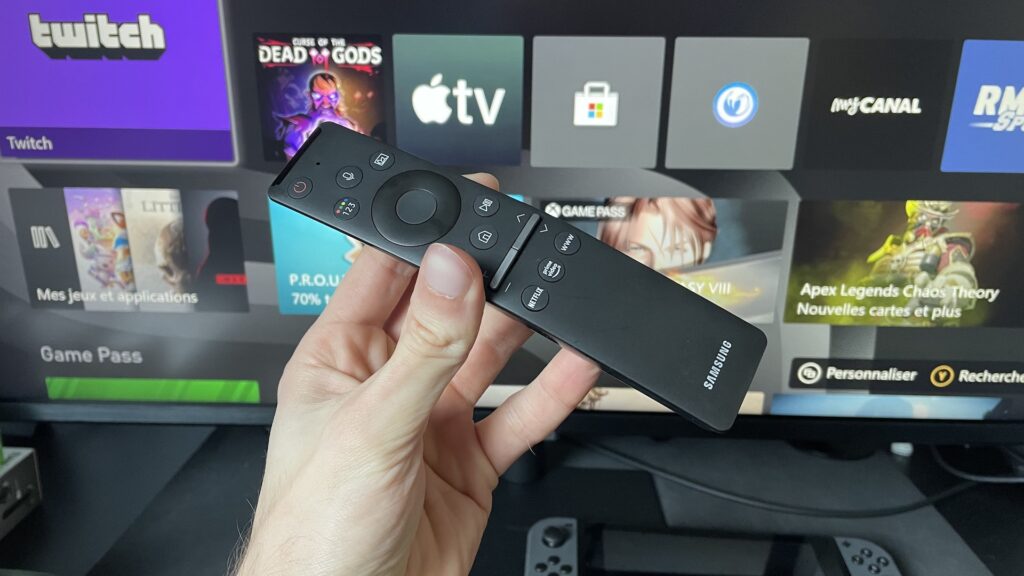 In terms of connectivity, there are two HDMI ports and a USB-C port capable of broadcasting a video stream and recharging its compatible PC (power of 65W). In our testing, the Smart Monitor refused to display an image when plugged into a MacBook Air – hoping it was more of a bug than an incompatibility. We did not encounter any problems, however, with the Xbox Series X (there is even a Game mode, which does not make it a gaming screen to rush on). The Smart Monitor skips the DisplayPort, an interface preferred by PC users. There are also three USB ports, capable of accommodating a keyboard and a mouse.
Is the Smart Monitor a good TV? Yes and no. For less than 400 euros, it certainly offers 4K, but very limited HDR compatibility (light peak limited to 250 nits). It does not benefit from the most advanced display technologies either: it is not a QLED panel, which results in blacks of a depth far from satisfactory (for example, the film bands are greyish). A little tour through the parameters will allow you to correct the shooting a little. Prefer Standard mode rather than Dynamic, which goes a little deep with colorimetry. As far as sound is concerned, we have to admit that Samsung could have made a little effort. The rendering lacks presence – too much directivity – and power, with this feeling that it is stifled. We will quickly have to compensate for this defect with a helmet.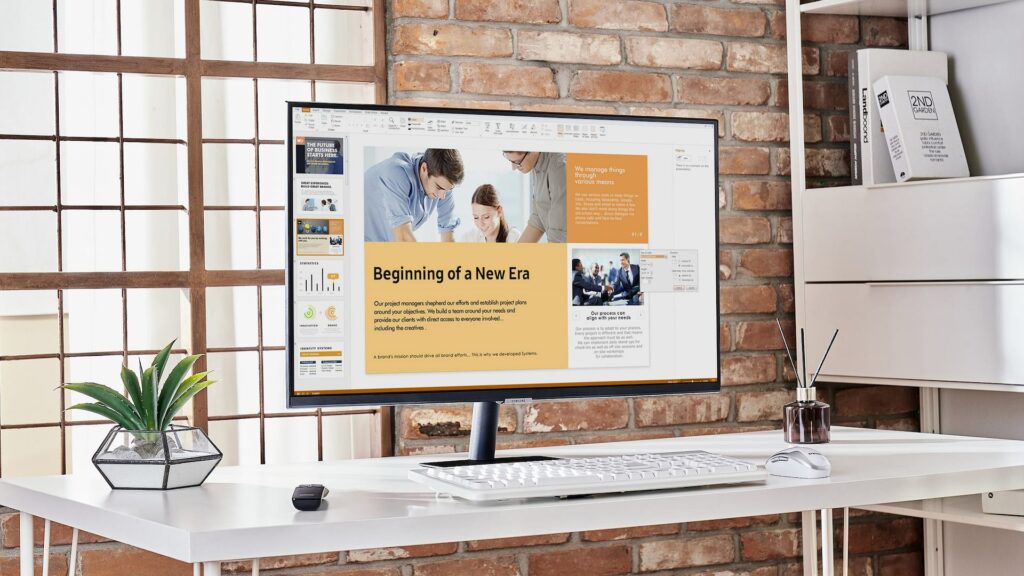 Is the Smart Monitor a good PC monitor? Yes, but for basic functionality. Good point, it allows you to access your PC remotely thanks to the Remote PC functionality. It also integrates the Office 365 suite, for direct access to its files without having to turn on your computer. In short, the tools to work calmly are there. The limits of the product come rather from its display quality, insufficient to satisfy demanding users. Same story for gamers, who want more than a 60Hz panel and are fond of performance enhancing technologies. These absences did not prevent us from completing without worry some dungeons of the demanding Curse of the Dead Gods.
On arrival, Samsung's Smart Monitor makes up for its flaws in image and sound with welcome versatility. Smarter than a classic PC screen, less restrictive than a television, the product is an encouraging first test on a segment which has yet to justify its existence. We cannot blame the Asian firm for not trying to meet very targeted needs. If you want the best television for your console or the best screen to enjoy your PC, this Smart Monitor, which also knows how to be independent thanks to its complete ecosystem, is to be forgotten. But if high standards aren't your primary criteria and you just want to do a little bit of everything without pushing too hard, maybe it deserves its place on your desk.