With the Galaxy Buds Pro, Samsung makes you forget about the mediocre Galaxy Buds Live. They are good in almost all areas, without achieving excellence.
To accompany its range of Galaxy S21 smartphones, Samsung has designed new wireless headphones equipped with active noise reduction: the Galaxy Buds Pro. Sold for a little over 200 euros, they will try to interfere with the market references: the Apple AirPods Pro, the Bose QuietComfort Earbuds and the Sony WF-1000XM3.
Competition is increasingly fierce in this segment, which has become essential, since all brands end up getting involved. In 2020, Samsung had missed a bit with the Galaxy Buds Live, the brand's first headphones equipped with active noise reduction. After a hesitant first try, the multinational absolutely must make up for it. We can say it without detour: without succeeding everything, the Galaxy Buds Pro do not have to be ashamed of the comparison on certain points.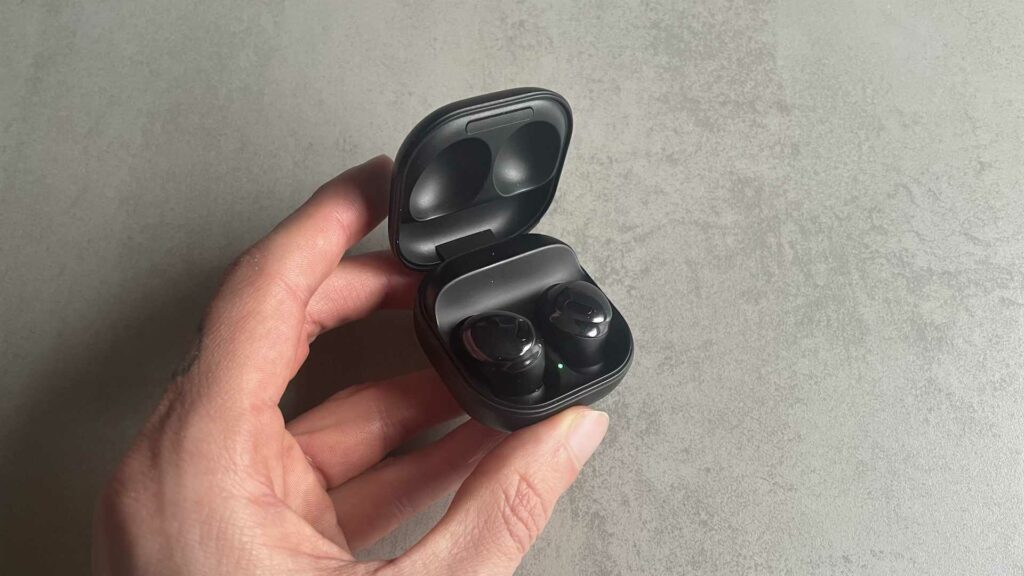 A design wiser than the Buds Live
Last summer, Samsung launched the Galaxy Buds Live, wireless bean-shaped headphones. Observers will be delighted to learn that the Korean firm did not want to use this atypical design for the Buds Pro, which is much more sober in comparison. She did not want to copy either the Apple AirPods, which can be recognized from afar thanks to their stick that protrudes. If we forget the glossy coating of the upper part, the Buds Pro are discreet. Admittedly, they are very thick, but, once worn, they barely protrude from the ear. Galaxy Buds Pro are available in three colors: black, silver and purple.
Buds Pro are discreet
Like the part in contact with the skin, the charging case sports a matte finish and offers a fairly soft touch under the fingers. The good news is that Samsung hasn't designed a large object that would be difficult to fit into a pocket. The competition should be inspired by it. In addition, the case is very practical: each earpiece naturally finds its place in its location, without having to force it. Another good point.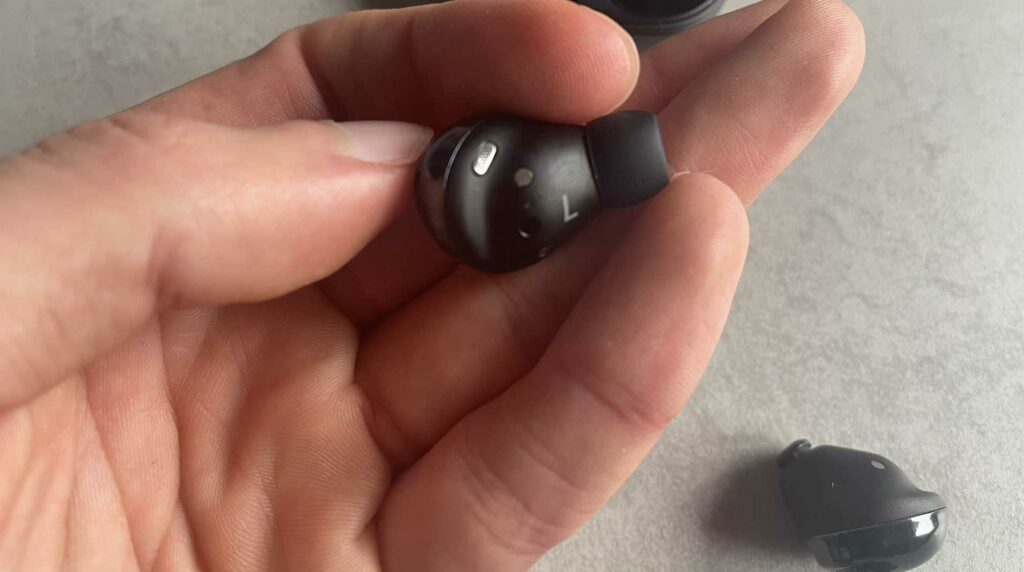 A hint of personalization
The Galaxy Buds Pro are designed for ease of configuration, like other products in the segment. We open the packaging then the case, we take the headphones out of the charging case and we search for them in our Bluetooth settings. On our Galaxy S21 Ultra, the device directly launched the installation of the Galaxy Wearable application, which offers a few levers to customize the use of its headphones and remains essential for installing updates (this application is not available on iOS, depriving iPhone users of certain features).
In theory, the Galaxy Buds Pro are very comfortable within the Samsung ecosystem, with the ability to easily switch between devices. During our test, we never managed to pair the headphones with an S21 Ultra and a Galaxy Tab S7 + at the same time … Apple is not willing. To enjoy phone-to-tablet continuity, the One UI 3.1 interface is required on both devices, which must also be linked to the same Samsung account. Make sure that the "Automatically switch to other devices" function is activated. In short, it's complicated.
Versatile
Each headset has a tactile surface, designed to offer a few commands. In use, despite the absence of a physical marker, said surfaces respond very well, knowing that the validation of commands produces a small beep. This indicator ensures that the desired result will be obtained. Note that you can choose to block presses from the application.
Here are the touch controls allowed by default :
One press: play or pause;
Two presses: go to the next track, accept / end a call;
Three presses: go to the previous song;
Long press: reject the call, manage noise reduction.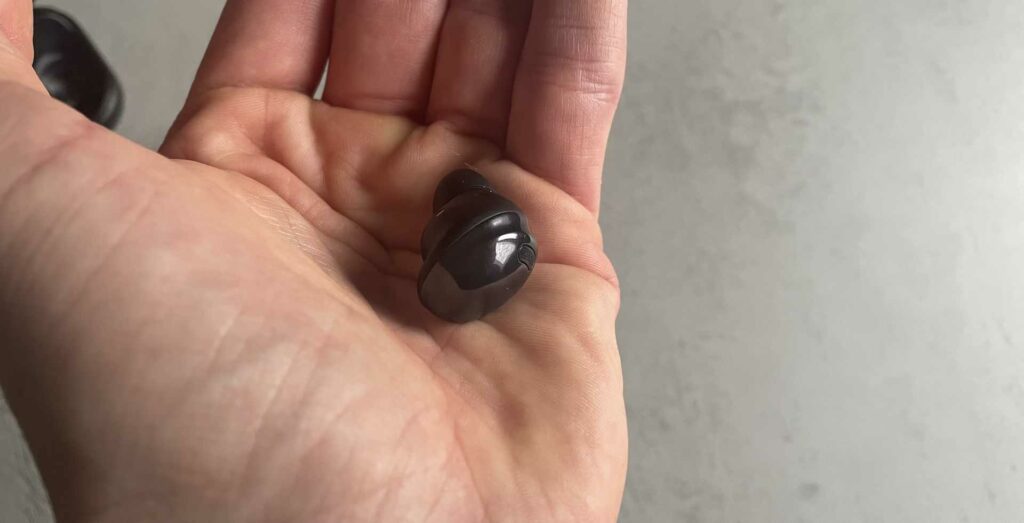 From the application, you can customize the "long press" command for each earpiece. For example, "Volume Low" can be assigned to the left earphone and "Volume High" to the right earphone to manage the sound volume. On this point, some restrictions should be noted: you cannot assign "Volume Low" to the right earpiece and it is not possible, either, to opt for volume management on one earpiece and on a completely different one. function on the other (example: Bixby).
The application also makes it possible to manage noise reduction, which can be activated (two stages) or not. There is also a "Surrounding sound" mode, which has four filtering levels (from low to very high). Galaxy Wearable offers an equalizer to choose a sound rendering more suited to your tastes, whether you are keen on bass or more sensitive to treble. In short, the Galaxy Buds Pro are rather versatile and do not usurp the Pro suffix of their name.
Comfort and good hold
Despite their intra-design, the Galaxy Buds Pro are very comfortable. You just have to take a hand to insert them correctly in the ear. To help the user, Samsung offers a very useful little diagram, showing that it is necessary to rotate the earbuds to facilitate their insertion. Once properly adjusted, the headphones do not cause any feeling of discomfort and ensure a good fit. They stay in place, even when you move your head in all directions. This means that the Buds Pro can be considered for a running session (tested and approved). This is all the more true as they have an IPX7 certification, which makes them resistant to water and perspiration.
Samsung provides three sizes of silicone tips with the Buds Pro (be careful, they are housed in a very small box in the packaging, we can miss it). We can only encourage you to try them all to be sure to find the ones that best suit your ear morphology. To improve comfort, the Buds Pro incorporate welcome vents to let the skin breathe.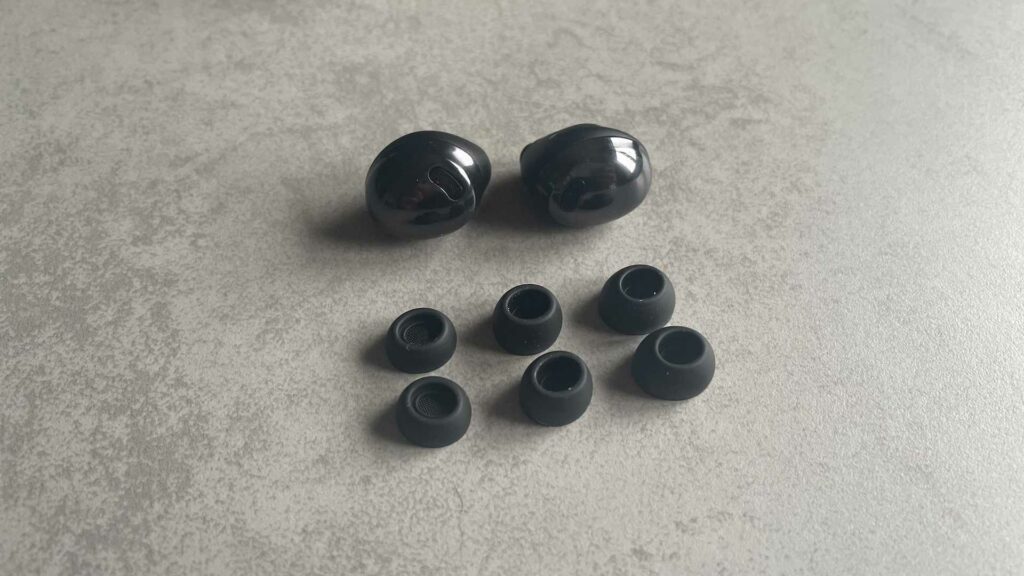 A more than astonishing sound
Samsung constantly praises its association with the specialist brand AKG, which it bought in 2016. And we can say that it is bearing fruit in the case of the Buds Pro, which afford the luxury of integrating two small speakers. This design makes it possible to offer a lot of detail despite a small format and without ever resulting in a rough rendering. The result is a very appreciable listening quality, where accuracy takes precedence. Unless you change the sound profile in the app, your songs will never be overwhelmed by bass. There is a nice acoustic balance, with vocals and instruments that stand out without a hitch. The Buds Pro are further proof that it is possible to obtain excellent performance with headphones.
A nice acoustic balance
In terms of active noise reduction, Samsung was starting from a long way off and its Buds Pro are struggling to climb among the market leaders – Apple, Sony and, above all, Bose. We have known better attenuation of external noise: the loudest sounds – example: the blast of a fan – will pass through the cracks. Smart, Buds Pro are equipped with a feature that automatically switches to "Surrounding sound" mode when they detect your voice. It can be useful in an outdoor environment, when you have to pay at the cash register of a store for example. Only problem? It can be a bit finicky and trigger when you hum the lyrics of the song you are listening to. It can be deactivated, if necessary, through the application.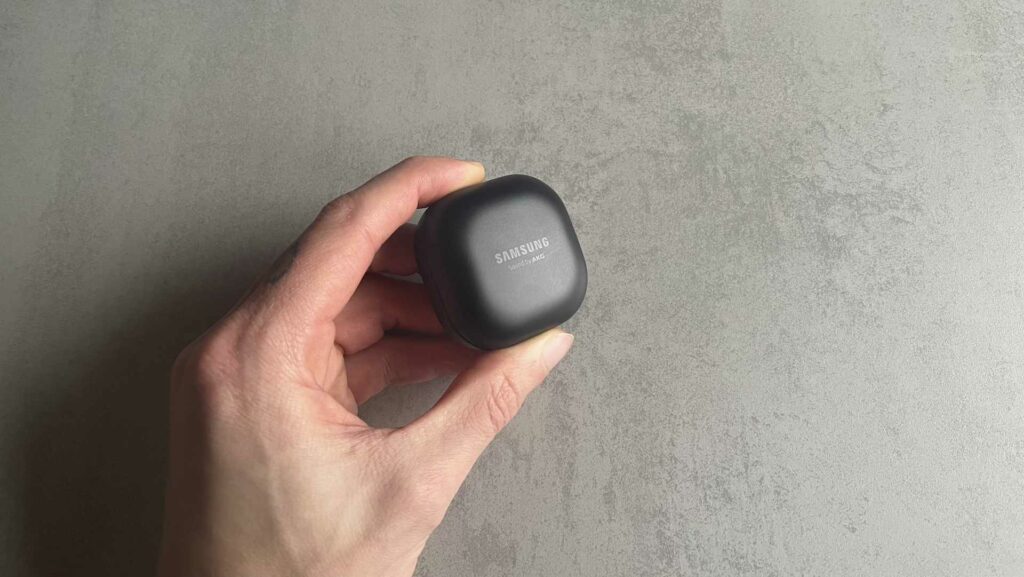 Noise reduction needs energy
The noise reduction has a real impact on the autonomy of the Buds Pro: five hours on a single charge when activated, eight hours without. In total, the autonomy can climb to 28 hours with the reserves provided by the case, compatible with wireless charging and provided with a USB-C port.
In short
Samsung Galaxy Buds Pro
Note indicative : 4/5
Samsung has decided to accompany its Galaxy S21s with Galaxy Buds Pro, wireless headphones with active noise reduction. We have to admit that they are above average in almost all areas, even if they do not excel in anything, except perhaps in terms of comfort. Noise reduction? Bose does better. The ecosystem? Apple does better (but you have to be on iOS). Fonctionnalities ? There is no shortage of Buds Pro, from the Galaxy Wearable app.
In conclusion, the Galaxy Buds Pro are more than honest headphones, at a well-positioned price and with very, very good sound reproduction (thank you AKG brand). It took so many arguments to forget the mediocre Galaxy Buds Live.
Top
Top comfort and design
Very, very convincing sound rendering
Full of features
Bof
Active noise reduction below benchmarks
Finicky Samsung ecosystem
Slightly low autonomy